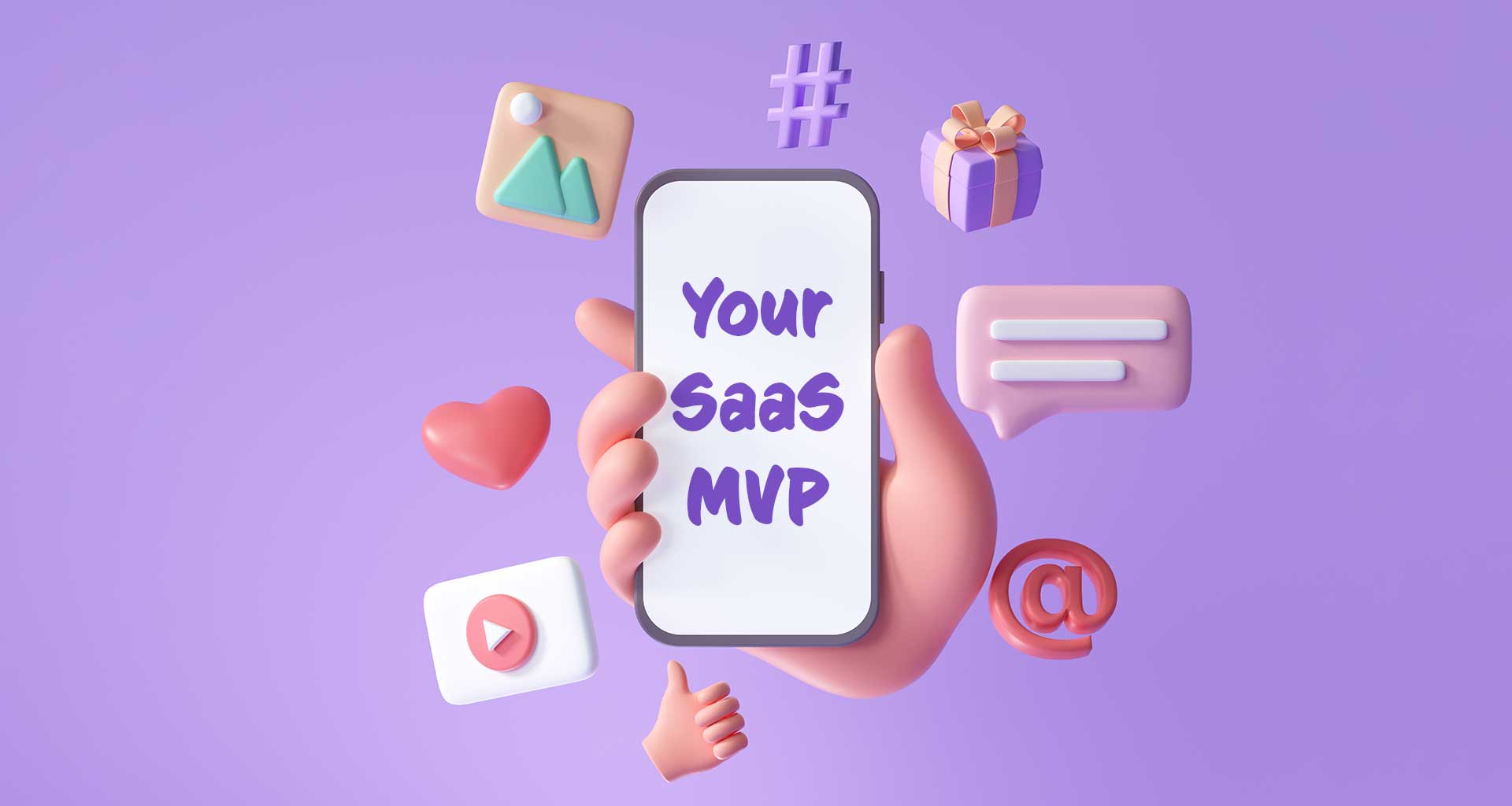 The real cost of developing a SaaS MVP
Stats indicate that entrepreneurs are jumping in to surf this giant SaaS wave worth over 171.9 Billion Dollars in 2022. But what are the real cost of developing a SaaS company today.
What is MVP?
Prologue
If your heart and soul lies in entrepreneurship, you've probably heard of the term MVP, or Minimum Viable Product. MVP essentially means developing the first version of your SaaS with just the core features required to launch it in the market.
Focusing on just the core allows you to launch the product fast and start bringing in revenue faster. This revenue can develop better versions of your SaaS product and scale it quickly.
A typical SaaS startup going the MVP way today, starts its operations with a lean team of just 5-10 people. Mostly consisting of developers, designers, and of course the multi-tasking startup founder(s) who often juggles sales and marketing.
Let's take a look at the real cost of developing a SaaS MVP
Cost to hire a developer
An average SaaS app developer charges around $60/hour. But the costs vary significantly based on their experience and where you hire the developers from. For instance the cost of developing to hire a US based developer is significantly higher compared to hiring of a developer from India. For this article we compared the costs of developers in Upwork, a website that connects clients with freelancers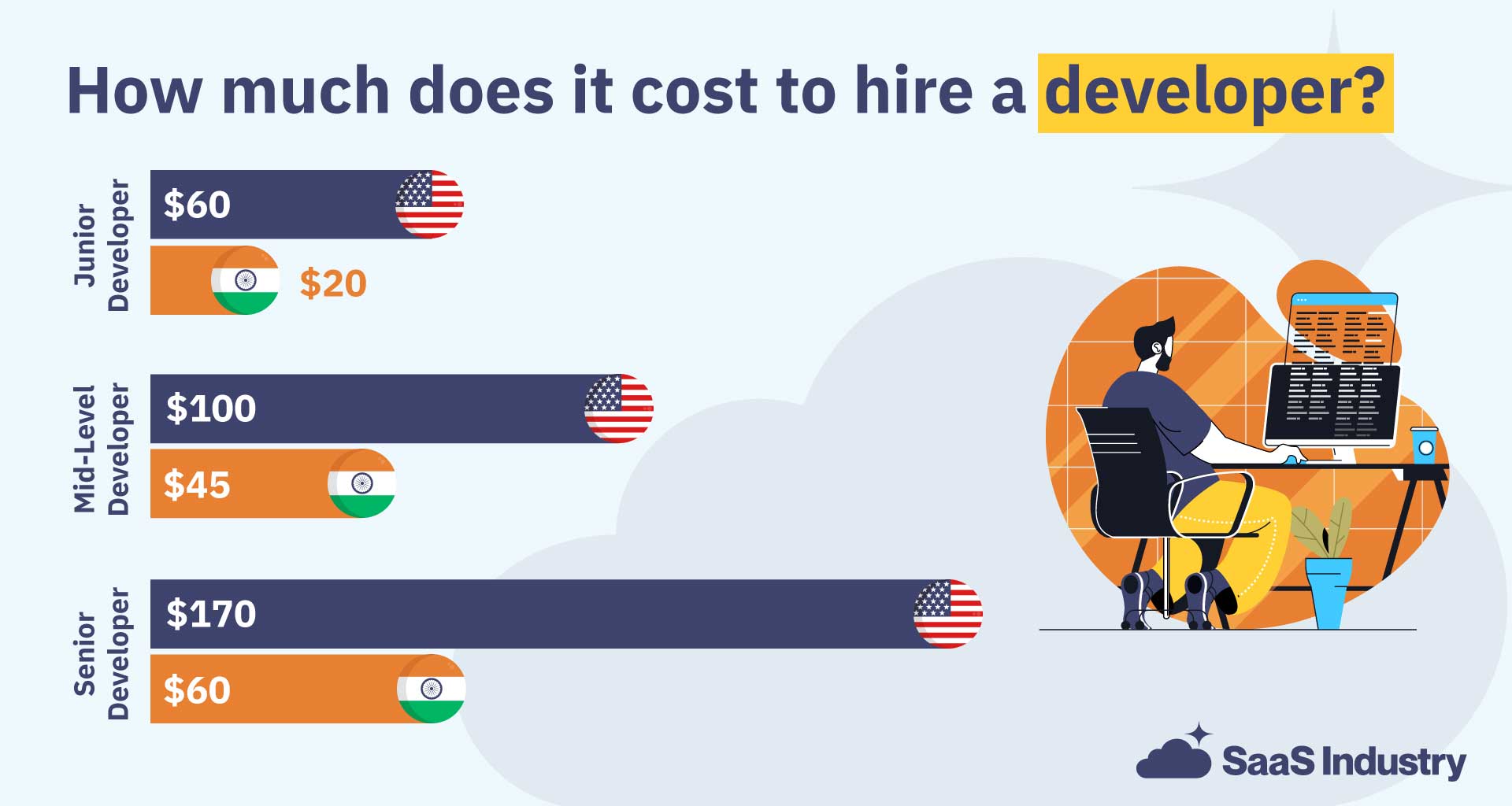 Based on the developers' hourly rates you see in the table, you will notice that a product of the same functionality and of the same quality can develop for as little as $10,000 to as high as $100,000 just depending on how much your developers charge per hour.
Cost to hire a UI/UX design
The user interface (UI) and user experience (UX) in your SaaS solution should be intuitive and reflect the USPs of your product. The time required for UI and UX design depends on the product's complexity and size. Comparing prices on Upwork again, the cost of developing UI/UX design typically costs $30 to $80 per hour from designers based in the United States and $10 to $40 per hour for designers based out of India.
Cost for Marketing
Marketing expenses can sometimes reach the cost of the product itself, and SaaS companies need to be ready for this. This is becoming unavoidable as the SaaS industry is a highly competitive environment. In order to attract users to your SaaS platform, you need paid advertising, influencer marketing, social media campaigns, and so on.
A few SaaS entrepreneurs going the MVP way are outsourcing their marketing to creative agencies. They charge anywhere from $800-$1000/month (India) to $4000-$6000/ month (US) for website development and creative content management. But, advertising spends on Google and social media can make the cost of developing go up and startups should be ready to shell out more from their pockets.
Other Overheads:
Integrations and third party services: After developing a SaaS product, you'll most likely need both internal and external APIs to connect it to third-party services. Especially for an MVP with minimal functionalities, it is essential to add APIs to make the product versatile and help the users to scale the product themselves without waiting for updates from you.

Support: This is a manpower intensive task and there is no way around that. There are two kinds of support – customer support and technical. Any software needs regular checks and bug fixes, as nothing is perfect. Also, you'll need a team to consult with customers, help them pick the perfect plan for their needs, and adjust your software to their business processes.

SaaS to run your business: Last but not the least is the expenses you will incur in purchasing software licences to run your SaaS business. This may include CRM to manage your contacts, accounting solutions to take care of your finances, project management tools, communication tools, content management systems for your website, marketing tools and more. Significantly, SaaS gives a hand to other SaaS startups and you will discover that there are a lot of freemium SaaS tools available to support your SaaS startup.
Final thoughts
As you can see, it's hard to tell how much a certain SaaS project will cost. But the longer it takes to develop the SaaS, the higher the costs of development bound to be.
Until about a decade ago, business software developed for a certain platform and a team of developers developed code for a particular on-premises environment. Later adapted it and sold it to other platforms with similar needs.
However, with the game changing MVP SaaS model, legacy software has fallen out of favor. SaaS entrepreneurs and investors love the new MVPs. As there is an ability to scale without buying a trunkful of servers and an army of developers and support engineers.