Jenfi raises $6.3M in a Series A round from Monk's Hill Ventures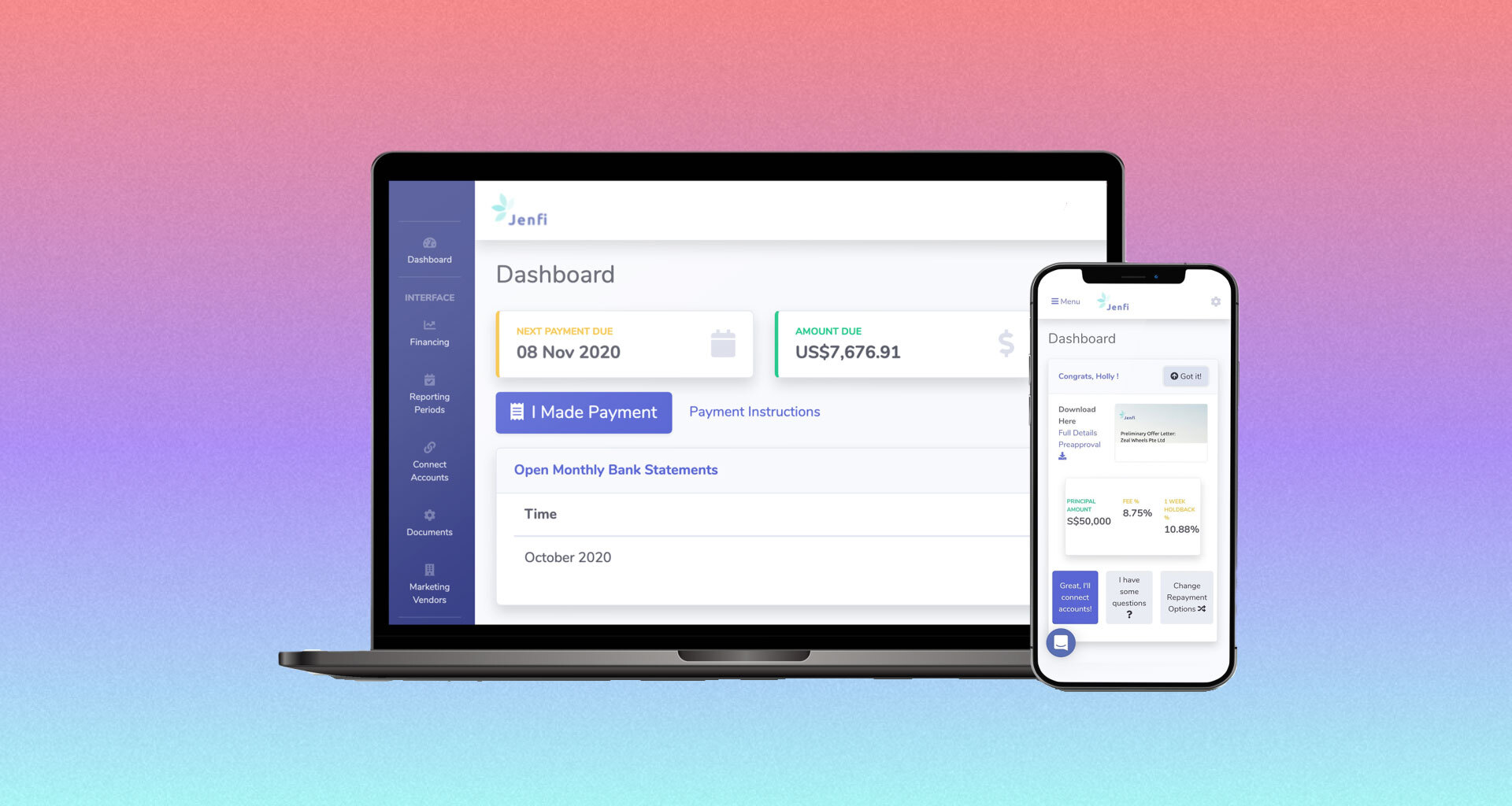 jenfi.com
---
At a Glance
Jenfi, a revenue-based financing company, has raised $6.3M in a Series A round led by Monk's Hill Ventures. Jenfi's one-of-a-kind risk assessment engine, which analyses how firms use their growth capital, will get some of the funds
---
Jenfi, a revenue based-finance provider, has announced that it has raised $6.3 million in a Series A round led by Monk's Hill Ventures. Other participants include Korea Investment Partners and Golden Equator Capital, 8VC, ICU Ventures, and Taurus Ventures. Previously, Jenfi had raised $25 million in debt funding from San Francisco-based Arc Labs.
The Singapore-based startup offers up to $500,000 in revenue-based financing with flexible payback options, which co-founder and CEO Jeffrey Liu refers to as "growth capital as a product."
Jenfi generally works with "digital-native" businesses, such as SaaS providers and e-commerce merchants. Tier One Entertainment, Pay With Split, and Homebase are among its clientele. Jenfi hasn't said how much non-dilutive financing it's given out so far, but the company says it wants to spend $15 million by July 2022. According to the company, the average Jenfi customer had a compounded revenue increase of 26.5 percent in three months, 60 percent in six months, and 156 percent in a year.
After witnessing how traditional financial institutions were lagging behind Southeast Asia's digital development, Jeffrey and Justin Louie founded Jenfi in 2019. GuavaPass, a fitness studio subscription platform that ClassPass bought in 2019, was established by the two. Some of the problems Jeffrey and Justin experienced when funding a high-growth business focusing on Asian markets inspired Jenfi's establishment.
Jenfi's application procedure is entirely online, and firms have gotten funding in as little as 24 hours in certain situations, but it usually takes a few days. Another advantage of working capital loans or private equity funding is that they might take months to execute, making it difficult for businesses to respond swiftly to revenue growth possibilities.
Some of Jenfi's Series A will be used to expand its unique risk assessment engine, which assesses how well firms use their growth capital. It can now access data from bank accounts, accounting software such as Xero or Quickbooks, payment gateways such as Stripe and Braintree, e-commerce platforms such as Shopify, Shopee, and Lazada, and Facebook and Google Ads.
Jeffrey said that Jenfi plans to go beyond financing and provides companies with better business tools. He said, "We see ourselves as partners in our portfolio companies' growth."
Jenfi can identify opportunities by combining data from various sources, such as bank accounts, accounting software, and digital advertising platforms. Jenfi will utilize a portion of its Series A financing to create automated analytics. For example, the platform might discover a high-return advertising opportunity on Google Ads and alert the firm, asking if they want to request additional funding to fund the campaign.