Debt or Equity, a SaaS Founder's Dilemma
FreedomTumZ via Twenty20
---
At a Glance
Raising adequate funds for your SaaS business is extremely essential to achieve your long-term goals. As there are multiple options available for you to choose from, it becomes imperative for you to make an informed decision that serves your long-term interests in the most efficient manner. With multiple financing options available, it is important for the enterprise to weigh the pros and cons of each of the options before deciding.
---
Are you looking to start your new SaaS Start-up or planning to remodel your existing SaaS enterprise? Well, then you would most certainly be consolidating your financial resources. But like most aspiring entrepreneurs, your financial resources might not suffice your requirements. In such a scenario, going for a round of SaaS funding could be the best option available for you. Funding for SaaS enterprises is on a steady growth trajectory. As per a report, in 2019, SaaS companies in India raised $ 1.8 billion, which is an almost 70% growth over the previous year's total of $ 1.1 billion. Let us now have a look into the world of SaaS funding and how you can leverage the opportunity to your advantage.
Need and Importance of Funding
The core essence of funding can be perfectly summed up in the form of the following quote,
Most business meetings involve one party elaborately suppressing a wish to shout at the other: just give us the money.

Alain de Botton
Funding is never easy as it is incredibly stressful when you are asking strangers to believe in your idea and offer you the necessary monetary resources. The process of putting together enough capital to get the ball rolling is as difficult a task for your first start-up as it is when you start your tenth. But what eases the process is knowing how the funding game will work for you. Another facet of funding that makes it a tricky process is that it is counterintuitive, i.e., investors only get excited about a product after the entrepreneur has made progress, but the entrepreneur needs investors' money to progress!
With the rapid pace at which the SaaS industry in India is growing, it is expected to reach revenue levels of up to $ 20 billion by 2022. Hence, the situation is undoubtedly ripe for you to go ahead with your SaaS business ideas. But to materialize your ideas, you need to have requisite sources of funding with you. If you are new to the world of SaaS funding, it is time to start exploring the various options that you can explore.
SaaS Funding Landscape
In order to finance your requirements for the necessary SaaS capital, there are multiple options available for you. Some of the most popular choices which most SaaS entrepreneurs explore are: –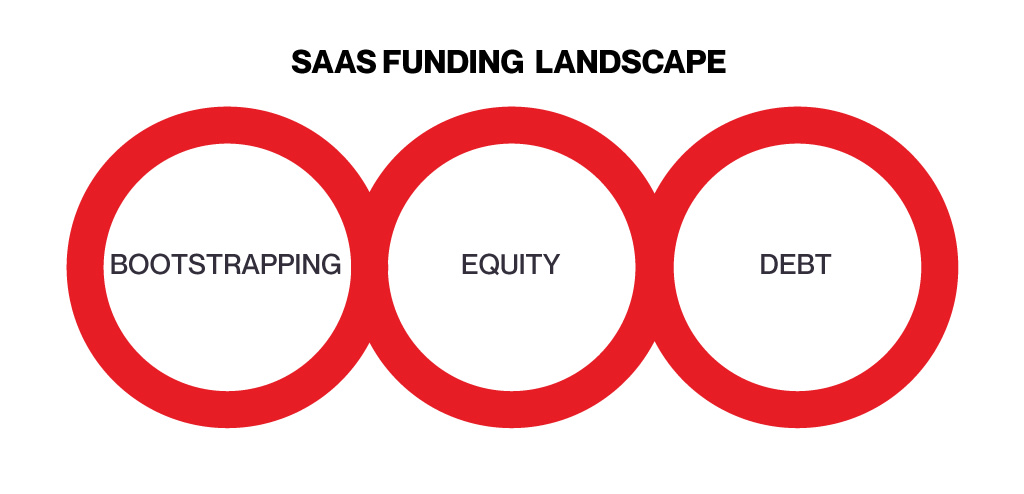 Bootstrapping
Using one's capital (credit cards, savings, customer purchases). This is generally Plan A for every business.
Equity
Herein investors give their money in exchange for a percentage share (angel investors, venture capitalists).
Debt
Herein an entrepreneur borrows money in the form of a loan and is required to make timely repayments at a specific rate of interest. (banks, private investors, financial institutions)
SaaS Funding should a Mix of Sources, Not Just One!
SaaS Funding does not always require one to stick to only one kind of resource; instead, it is a combination of all the available resources. Seasoned founders do a great job understanding its pros and cons and leveraging them to their maximum potential.
SaaS Bootstrapping
Many SaaS enterprises do not get funding from angel investors, but that does not mean they pack their bags. Then what they do is make intelligent use of the SaaS Capital.
Generally, a SaaS entrepreneur uses his/her own means to start a new venture, i.e., bootstrapping. This is the default position for every business. It involves all types of available sources of financing: friends and family, personal savings, crowdfunding, and sweat equity. To have someone else put capital in your SaaS enterprise, you will have to invest your time and efforts before anyone else even considers investing money into your venture. As a SaaS entrepreneur, you should opt for bootstrapping as the preferred option. This will allow you to retain complete control over the company.
SaaS Company Debt
If your financials allow you the flexibility of servicing interest costs, then opting for debt funding can suit your requirements as well. The debt can be availed from private investors or financial institutions. Situations, where the debt route is the suitable option are: –
· Taking on cash in the form of debt financing allows you to retain equity, which may mean keeping control, optionality, your sanity (and hair), and long-term upside.
· The second benefit of utilizing debt to fund growth is that the interest on your debt is tax-deductible.
· The recurring revenue, high margin nature of the SaaS business model, is ripe for debt capital. The regular cash flow allows the company to be able to serve the interest cost without affecting its regular operations.
SaaS Company Equity
Not every situation is a good fit for debt. There are various instances where the high interest cost can become a significant burden on your financials. In such a situation, going the equity route can be a good option. Some of the situations where equity can be a good option are: –
· In case a company needs to burn a lot of cash to fuel its growth ambitions, then it will be difficult for the company to raise a debt. Most of the lenders have a capping on the maximum amount they can offer as a debt. If the amount of debt is much lower than your requirements, then going the equity route is desirable.
· If the lender is levying a higher interest rate or insisting on a longer repayment tenor, then the cost of debt will be too high and in such situations equity is a better option.
· If your business is in a pre-revenue stage, then you must raise equity from friends, family, or other founders as investors prefer to offer funding based on the revenue flow of the company.
Breaking down the fundraising process for SaaS Enterprises
Now that you are aware of the various funding options available for you, here is a brief outlay of the SaaS fundraising process to help you navigate your way through these choppy waters: –
Phase 1
Structure the fundraise
Before you start, you must determine which SaaS funding option will make the best sense for your future growth aspirations.
· Determine how much capital you need.
· Learn which funding source is best for your needs and goals.
· Weigh the pros and cons of all three types of funding.
Phase 2
Investor Selection
Here one starts pursuing the investors, considering which investors will be appropriate for a fundraiser and where one will find them.
Phase 3
Craft your pitch
Here the whole story is supposed to be presented in a concise, short pitch, which resonates with the investors.
Phase 4
Investor Outreach
Contacting prospective investors is again a big task. You must determine how to reach out to investors, whom to contact first, and how to present information to get the desired response.
SaaS funding is not an easy process. No matter which route you go through, your task is ominous and highly time-consuming. You might have to re-work after facing rejections, but in the end, it will all be worth it. After all, you will be able to take your SaaS enterprise on the desired growth trajectory.